On Dec. 2–3, the Holland Community Center and the Sonoran Arts League will join forces to present the second annual Winter Artisan Market, a unique holiday shopping experience celebrating local …
Already have an account? Log in to continue.
Current print subscribers can create a free account by clicking here.
Otherwise, click here to subscribe.


To Our Valued Readers –
Visitors to our website will be limited to five stories per month unless they opt to subscribe. The five stories do not include our exclusive content written by our journalists.
For $5.99, less than 20 cents a day, digital subscribers will receive unlimited access to YourValley.net, including exclusive content from our newsroom and access to our Daily Independent e-edition.
Our commitment to balanced, fair reporting and local coverage provides insight and perspective not found anywhere else.
Your financial commitment will help to preserve the kind of honest journalism produced by our reporters and editors. We trust you agree that independent journalism is an essential component of our democracy. Please click here to subscribe.
Sincerely,
Charlene Bisson, Publisher, Independent Newsmedia


Click here to see your options for becoming a subscriber.
Click here create a free account for posting comments. Note that free accounts do not include access to premium content on this site.

On Dec. 2–3, the Holland Community Center and the Sonoran Arts League will join forces to present the second annual Winter Artisan Market, a unique holiday shopping experience celebrating local artists and makers.
For attendees, this free admission event will offer the perfect opportunity to shop for one-of-a-kind holiday gifts while meeting the artists and learning about their creative process. The Winter Artisan Market will take place from 9 a.m. to 4 p.m. each day at the Holland Community Center, 34250 N. 60th St. in Scottsdale.
This juried show will feature up to 75 regional fine artists exhibiting their original, handmade creations, which may include jewelry, painting, photography and more, according to a press release.

One of the key highlights of the Winter Artisan Market is the chance for attendees to forge a personal connection with talented local artists, which creates a distinctive "Main Street" shopping experience reminiscent of the days before the internet and stores were the vendors of choice. Shoppers will not simply be purchasing inanimate works of art — they will gain insight into the consciousness of the artist while enjoying a friendly, intimate, unhurried shopping experience.
Located in north Scottsdale, the Holland Community Center is a nonprofit organization celebrating art, education and service in the Desert Foothills region. Formerly known as the Foothills Community Foundation, the Center offers a vast array of programs throughout the year, including lifelong learning classes, fine arts exhibits, performing arts through the Desert Foothills Theater and more. For more information, visit hollandcenter.org.
The Sonoran Arts League is a nonprofit, volunteer-based, arts service organization dedicated to actively advancing art, artists and art education. Founded in 1975 as an informal gathering of artists local to the Cave Creek area, the league now consists of over 750 members from across the United States and Canada. To learn more, visit www.sonoranartsleague.org.
The Holland Community Center and the Sonoran Arts League are currently accepting artist applications for the Winter Artisan Market. To access the application and learn more about the event, visit hollandcenter.org/event/winter-artisan-market/2022-12-02/.
Other items that may interest you
Most popular stories in Scottsdale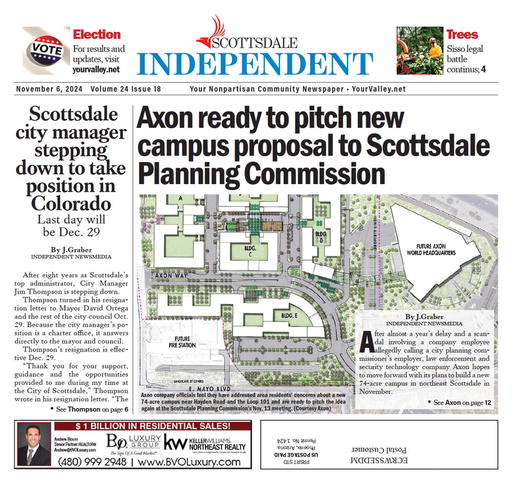 Read the latest print edition here.
View this issue
Browse other issues
DON'T MISS A BEAT: Simply submit your e-mail address below, click on the opt-in email link and watch your inbox for news from the Daily Independent at YourValley.net. Thank you for reading!
With the support of the local community, Hunkapi Programs, an equine therapy farm located in the heart of Scottsdale, announced that it raised $200,000 at its 8th annual Open Your Heart Gala.
Emerson String Quartet schedules Scottsdale performance in final tour
Klapp: Flow of Arizona tourists relies on airspace management
Platinum Living Realty welcomes new agent
Cantor: Addressing silence, Scottsdale's first responders
No Surprises Act may surprise patients by disrupting access to health care networks


YourValley.net
623-972-6101
17220 N Boswell Blvd
Suite 230E
Sun City AZ 85373
Email: azdelivery@iniusa.org