BY J.A. JONES, Staff Writer
ST PETERSBURG – You still have time to catch the stunning exhibit "Fresh Up," which has been running at the Museum of Fine Arts St. Pete since the end of May. Bahamian artist Gio Swaby's giant tapestries on canvas will grace the walls until Oct. 9, so get there fast.
Swaby's first solo museum exhibition is made up of more than 40 works; the show was co-organized with the Art Institute of Chicago, where it opens in 2023. "Fresh Up" is a Bahamian term expressing how women feel when they are feeling and looking great.
The show features work spanning 2017-21. Swaby's creations are birthed out of her childhood, where she grew up bathed in the creative influence of her mother, who was a seamstress.
Gio Swaby, Gyalavantin', 2021, Thread and fabric sewn on canvas, Courtesy of the Artist and Claire Oliver Gallery, New York
In a process that includes using a "sitter" to photograph before transferring the silhouette to her magical canvases and adorning them in brightly colored textiles and threads, Swaby's pantheon of female figures feels at once like goddesses and warriors while also reminding us of beloved dollies from our childhoods.
In an interview with the MFA, Swaby noted, "I want to create portraits that are full of the essence of that person and who they are and be able to do that in a way that's delicate, that holds so much respect and reverence and love for the person being represented."
The artist has written comments for many of the works and has likened the process to writing "love letters" to Black women.
In her interview with award-winning journalist Nikole Hannah-Jones for the exhibition catalog, Swaby states, "I would describe my work first and foremost as an act of love."  She added that the processes of creating the canvases "are not necessarily the work itself. The work is more about making connections and growing love. Those portraits are like a dedication to that work or a residue of that work."
Gio Swaby, Another Side to Me Second Chapter 3, 2021, Thread and fabric sewn on canvas, Private Collection, Israel
Moving through the exhibition feels like returning to a pre-lingual state of imagination and possibility through her larger-than-life representations, we are reminded of the mystery of "growing into" womanhood while guided by the unspoken, carefully protected gifts of creation from our feminine guides.
Swaby's work has been accompanied by a possibly before-unseen level of "St. Pete Black Girl Magic and Events" — another success for this phenomenal show. The level of communal and individual (for those of us who went alone) joy that has accompanied its giant multi-colored silhouettes depicting Black women the artist loves and pays tribute to.
Gio Swaby, Going Out Clothes 3, 2020, Thread and fabric sewn on canvas, Collection of Claire Oliver & Ian Rubinstein
Images of women accompanied by daughters, homegirls, and sista-groups have popped up on social media feeds throughout the show, while the museum's own marketing events – including a sold-out Bahamian-themed dance party at the MFA, an opportunity for women of all races to join in celebration of the glee, beauty, and spiritual power of being female –emphasized the celebratory aspect of the show.
"I was absolutely blown away by its beauty and loved seeing myself represented," shared Hillary Van Dyke of Green Book of Tampa Bay. The Green Book is holding its Sept. 8 business mixer at the Gio Swaby exhibit.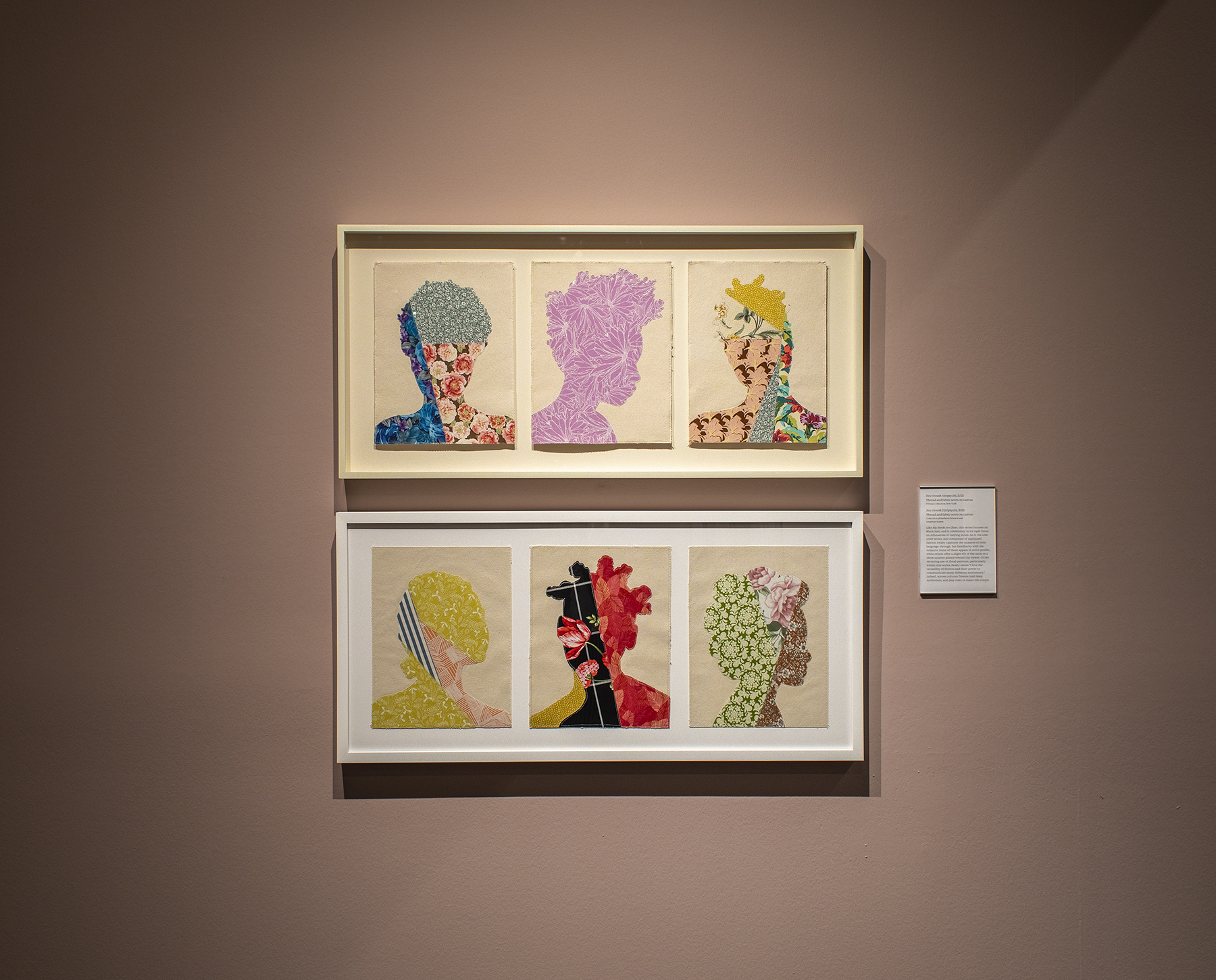 Shundra Allison, creator of The Burg Cares and Power Plug Radio co-founder, asserted, "It was an amazing expression of loving your own unique beauty." Alexis Holland of Living By Intention added, "To be in a room that big (in the South!) and see nothing but us on the wall was so much more than a display… it was deeply healing."
Chiming in from the male perspective, Community Tampa Bay's Eric Vaughn commented that the show "…not only invites Black women into the Art conversation but welcomes and embraces them."
The Woodson African American Museum of Florida Executive Director Terri Lipsey Scott summed up the general acclaim for Swaby's work simply: "Gio is a phenom whose talents will be forever celebrated."
You have a whole month, don't miss it. "Gio Swaby: Fresh Up" closes Oct. 9.
Omari Hardwick plays a man held captive by a witch in horror film Spell (2020). BY DWIGHT…
Photo of Pinellas County School children from the 1950s By J.A. Jones, Staff Writer…
By Dana Brownlee, Huffington Post Kudos to Michelle Obama for giving voice to the need to…
Your email address will not be published. Required fields are marked *









P.O. Box 35130
St. Petersburg, FL 33705
T: 727-896-2922
Monday – Thursday
Home
Contact Us
About Us
Archives
Media Kit
Privacy Policy