Please Update your browser
Your browser is out of date, and may not be compatible with our website. A list of the most popular web browsers can be found below.
Just click on the icons to get to the download page.
Or continue login with
Many believe that the digital world has us estranged from the real world. But is it true? These days, isn't the digital world also the "real world"? We are never truly separated from the Internet, after all.
A new exhibition by Dutch artist collective WERC, titled Triangulation, at Erasmus Huis Jakarta portrays how the physical and digital worlds intertwine. With their triptych, the three artists showcase how the digital and physical world co-exists, enhancing human life with their seamless harmony.
"[The exhibition] is very special because it's the first time in 52 years that we have a digital exhibition," Erasmus Huis director Yolande Melsert said during the exhibition's opening on Oct. 12.
Melsert first came across an augmented reality (AR) graffiti by WERC in the Groninger Museum in early 2021.
"I couldn't stop touching the wall to manipulate the composition," she said. "And I was not the only one. Children, parents, young couples and grandparents were running around to see the effects of their touching. I immediately wanted to take this work with me to Indonesia."
At the Erasmus Huis, the artists brought the interactive AR graffiti and their two other works, which are an introspective video game and a self-reliant light installation.
"The WERC collective is playfully exploring digital possibilities and in doing this they challenge their audience to step out of their comfort zone," Melsert said. "To 'travel' with them is a very inspiring journey."
The three artists of WERC, Jelle Valk, Joachim Rümke and Olav Huizer attended the opening night at the Erasmus Huis.
"We're very excited to show our work in Indonesia," Joachim Rümke said. "It's our first solo exhibition [and] the first time we show our stuff, the three of us."
The three artists met during their studies at Minerva Art Academy in their hometown Groningen 13 years ago. They then immediately bonded over their mutual interest in digital art and installations.
"We rent a little studio space [in Groningen] where we make stuff," Rümke continued. "As we work, we inspire each other."
'Once Is Never'
In the Erasmus Huis exhibition, Rümke presents the role-playing video game Once Is Never, inspired by the artist's life.
"In the past couple of years, I've been very busy with [thinking of] freedom of choice, especially how you make a choice and how you deal with the irreversibility of it once the choice is already made," the artist said.
This train of thought was triggered by the passing of Rümke's father six years ago.
"And last year in May, on my birthday, I turned 33," he continued. "As I was lying in bed, I realized I was half the age my dad was when he died. That night, all these thoughts came to me when I was halfway through my life. A feeling of regret came to me about the things I did wrong, about the studies that I never finished [and] girlfriends I cheated on."
To distract himself, the artist played a video game in his room.
"In the video game, everything's very clear," he said. "It's very easy to make decisions. That's when I thought, 'Why don't I make a video game of my own life?'"
"Certain people go to therapy. I make a video game," Rümke said with a smile.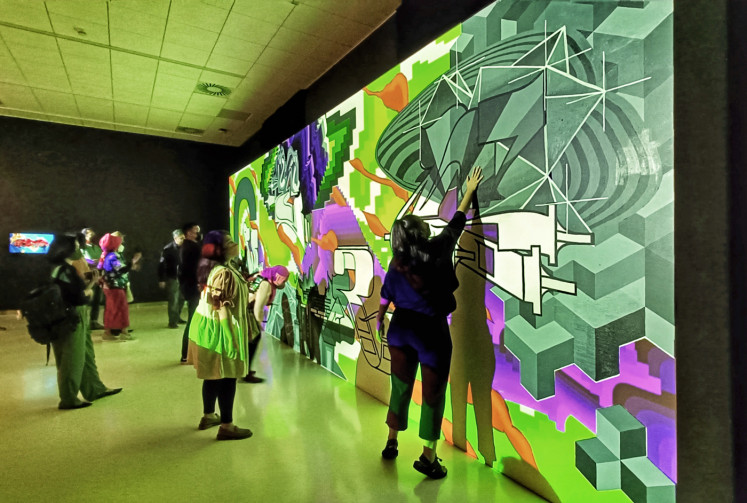 Interactive artwork: Visitors play with 'AR Graffiti' by Dutch artist Jelle Valk, during the opening night on Oct. 12 at Erasmus Huis Jakarta. (JP/Sylviana Hamdani) (JP/Sylviana Hamdani)
During the opening night, journalists were invited to play the game with consoles on the large screen at the Erasmus Huis auditorium.
In the video game, the player becomes Rümke and is challenged to make life-altering choices from the early moments of his life.
The game opens with a swarm of sperms swimming up the birth canal, searching for the egg. When the player has successfully navigated the sperm to the egg, the game advances to the next nine months, in which the artist is born.
"My mother said that I took extra long to get out as if I was trying to postpone my first decision for as long as I could," he said.
The game comes with simple two-dimensional pixelated graphics. And yet, the choices that it presents are complex. As the player becomes engaged in the artist's life, they can also reflect on their own life and see how theirs and the choices they have made are not so different from Rümke's.
Quotes by world-famous philosophers, such as Søren Kierkegaard and Friedrich Nietzsche, appearing at several intervals during the game also enrich the player's introspective experience when playing.
"I've spent days, even months, in this world and made multiple choices," Rümke said. "Choices that are way easier to make than in real life, choices without actual love, choices [made] without any fear, choices without any real consequences."
After the opening day, visitors can take turns playing the game in the specially designed arcade cabinet in the Erasmus Huis exhibition hall.
'AR Graffiti'
On the opening night, dozens of visitors flocked to the graffiti wall by Jelle Valk. Each became excited as its graphics and tunes transformed when they touched the screen.
"[The installation] is just a wooden wall with paint," Valk said during an interview with The Jakarta Post after the opening ceremony.
The graffiti artist was probably humble as there is a lot of high technology involved in AR Graffiti.
The painting portrays four stylized letters that read WERC, surrounded by rough sketches of bricks and clouds. It is painted on a 9-by-3 meter wooden wall using electrically conductive paint that allows it to interact. Behind the wall are sensors that relay each touch by visitors to the electric panel that regulates the light and sound animations.
"It's my dream to give people choices in creating a more dynamic and interactive public space [through graffiti]," Valk said.
Sixteen video projections have been designed for AR Graffiti, which results in hundreds of possible combinations. Thus, the graffiti is constantly in flux with each touch of the screen.
During their visit to Indonesia, WERC also conducted a two-day workshop with Jakarta Arts Institute (IKJ) students. In the workshop, the artists revealed how they designed AR Graffiti.
"It's an eye-opening experience," Khanza, an IKJ student that participated in the workshop, said during an interview on the opening night. "They showed us that there are a lot of new ways to interact with people [through graffiti], which is not only by animation or projection mapping but [also] by interactive projection mapping."
"It's something that we've never learned before," the seventh-semester student said. "Not even on campus."
'Tane'
The name Tane is derived from the Japanese word, which means seeds, flowers and offerings. The digital exhibition, which consists of hundreds of small, hexagonal solar panels sitting on bamboo sticks of varying heights, is currently displayed at the open square of the Erasmus Huis.
Designed by Olav Huizer, an expert in electro techniques and programming, each panel contains an LED light, a microprocessor, a radio frequency transceiver and a solar-powered battery.
The digital installation is programmed to sleep during the day. And as their batteries charge from the sun exposure, the panels emit a soft bleep-bleep sound.
"Like a cat, they purr," Valk smiled. "It means they're happy."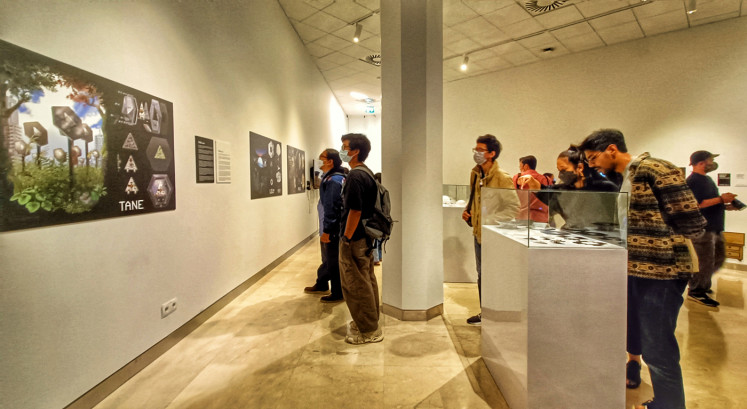 Light it up: Visitors admire the display of electrical components of 'Pixi' and 'Lili' of the 'Lumo Family' at the exhibition hall. (JP/Sylviana Hamdani) (JP/Sylviana Hamdani)
During the night, the solar panels "wake up" and "communicate" with one another through radio frequency. Inspired by schools of fish, groups of Tane flash red, green, yellow and blue lights at various intervals.
"There's a constant conversation," Valk said, explaining the color changes. "And there's always one Tane that comes up with a different message and a different color. Its neighbors will first listen to it and then repeat it like the whisper game. It's all happening in milliseconds."
Tane is the youngest of the nature-inspired light installations by WERC. Their light installations, named the Lumo Family, also consist of Lili and Pixi.
Pixi light panels were displayed on trees in a forest in Drenthe, a province in the northeastern part of the Netherlands, in 2015. Lili was a floating light installation displayed on a lake in Leeuwarden, a city about 50 kilometers from Groningen, in 2018.
Pictures of Pixi's and Lili's installations and their complex hardware composition are also being displayed in the exhibition hall of the Erasmus Huis.
"With the Lumo family, WERC is trying to show how complex natural processes can be imitated digitally and how nature and technology can live together in harmony," Valk said.
The exhibition runs at Erasmus Huis Jakarta until Jan. 15, 2023.
"Hopefully, with our art, people will understand the world they're living in a bit better," Valk concluded.

TJP Documentaries: Yogyakarta 'fight club' keeps teens away from Klitih gang crimes
TJP Documentaries: Five Legendary Jakarta Snacks
TJP Documentaries: The Tragic Victims of Robot Trading and Binary Option Scams
© 2016 – 2022 PT. Bina Media Tenggara