News
BHPian Jeroen recently shared this with other enthusiasts.
This travel story has three parts. The first part is all about us getting to and driving around the UK and ending up in Bath. The third part is about us driving back from Bath via Suffolk. The second part is about my visit to a magnificent helicopter museum near Bath. Feel free to read it all, or skip the parts you are not interested in. Enjoy!!
Jeroen
So it begins:
My wife and I had a very busy summer for various reasons. A very large part of our friends and family live abroad. This was the first summer after the pandemic everybody could travel again. So we had a lot of family and friends staying with us.
Also, our eldest son Luc got married to his partner of many years Maloeke. Just as my wife she grew up in the Caribbean, though a different island from my wife's. But again more people to see, meet and host in our house. So in all, a very nice time. But we felt we needed a break. We decided to spend some time in the UK. We had some other friends we would like to see. We always enjoy touring around the UK. Until Brexit we had some properties in Suffolk, one being our little holiday home. We sold them, so no fixed place to stay. Nowadays, we rely on friends, families, hotels and B&Bs to put us up.
When travelling from the Netherlands to the UK by car there are different options.
It does depend a bit where you need to be in the UK. But as long as you are not going far north our preferred method is taking the Stenaline night ferry from Hook of Holland to Harwich. We have taken this crossing dozens, if not hundreds of times. We can still have dinner at home, leave at about 19.15 and rock up to the ferry terminal in Hook of Holland at around 20.00 hours. Boarding is usually very quick, which means we get to spend some time on board, have a drink in the bar.
For these sort of trips there can only be one car from our little family fleet: My gorgeous Jaguar XJR!
Here we are, parked at the terminal, passed check in and immigration, waiting to be allowed to drive onto the ferry.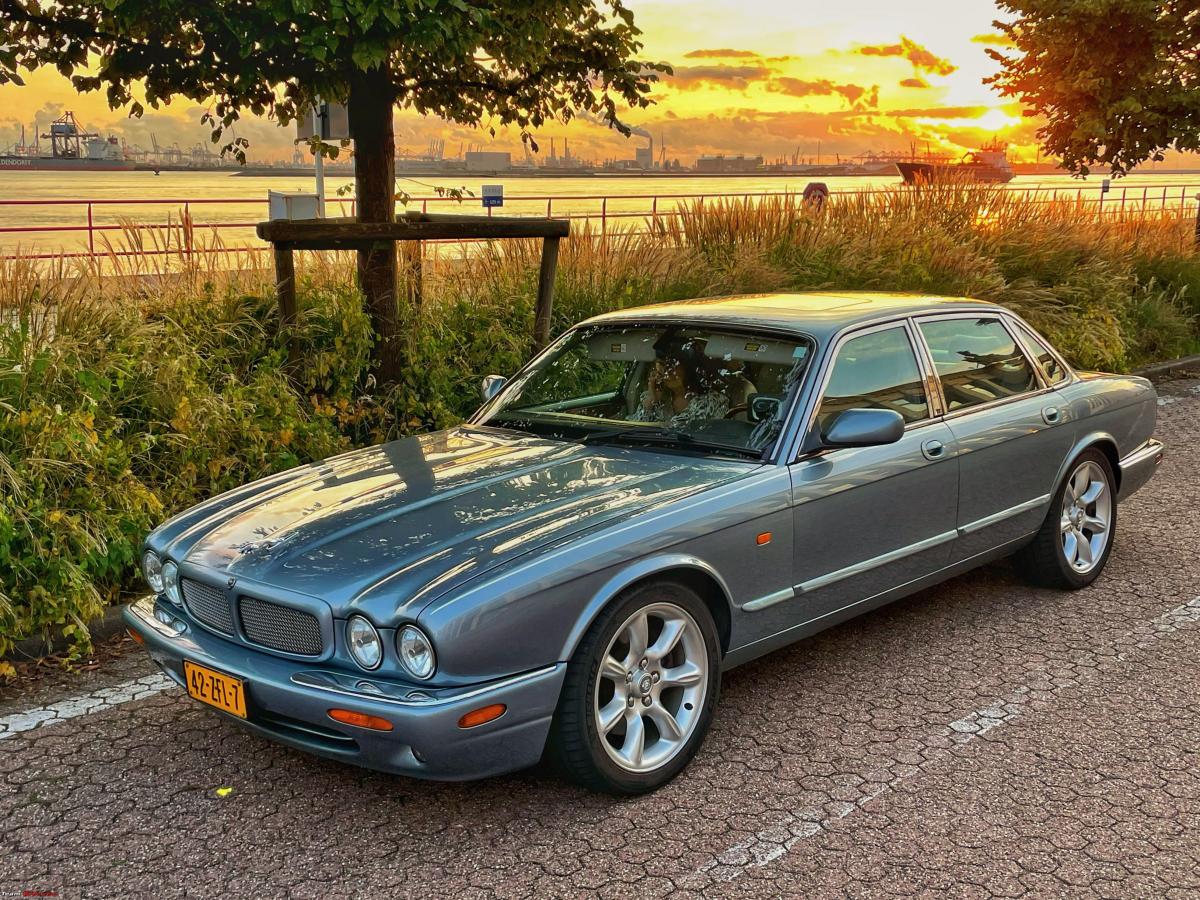 As luck would have it, spanner mate Peter and his son Marco rocked up as well, in Peter's gorgeous 1980 Alfa Romeo Spider Coda Tronca! They were on their way to the Goodwood Festival.


It was by pure chance we found ourselves on the same ferry. Peter and I only found out about a week earlier. So we drove onto the ferry and the four of us had a very enjoyable evening, drinking and eating in the bar.
If you cross on the night ferry, it is mandatory to take a cabin as well. In the past we used to take a two person inboard cabin. Very simple, perfectly adequate, but it is always a bunk bed. Although I consider myself to pretty fit and in good shape for a guy my age, I just don't like having to climb up a ladder to go to sleep.
You only live once and you can't take it with you, so these days we get ourselves a much roomier outboard cabin with proper beds without ladders!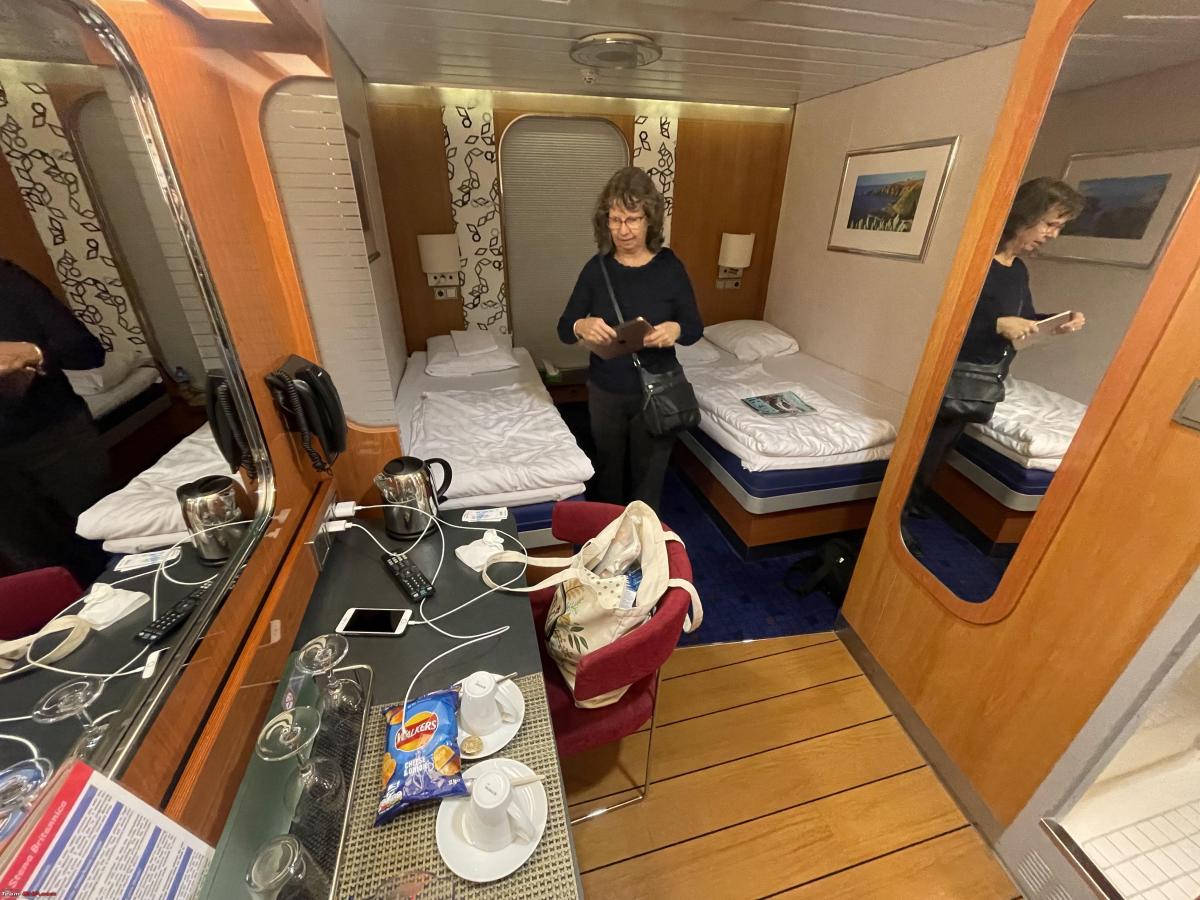 Actually, we got a little upgrade from Stena, as this was even a slightly more luxurious cabin than we reserved. It came with its own little free minibar! We immediately looted the mini bar, took also all the complimentary chips and chocolate bars and installed us in the bar on the main deck, waiting for Peter and Marco to join us.
Weather was very nice, so apart from a bit of vibration now and then you don't even notice you are on a boat. The ferry dock at Harwich at around 05.00AM, local time. They wake you up around 05.30 (which is actually 06.30 Dutch time). By 06.30 local time unloading will start.
When we still had our holidayhome we never breakfasted on board, we just drove home and we would be in our own home by 07.30. These days we always have the breakfast option as well. You get a decent enough full English breakfast plus lots of other food and drinks available. From croissants to yoghurts.
We said our goodbyes to Peter and Marco as we would be making our own separate ways. By about 07.45 we passed immigration and customs and were on our way heading south.
Our first stop was with friends living in a tiny village near Colchester. We arrived around 09.00. We had to drop off some of their stuff that for various reason had been left in our home in the Netherlands. From there we made our way to Horsham. Horsham is about 10 miles south west of Gatwick.
We made very good time down the motorways, across the Dartford Crossing and along the M25. If you even find yourself going across the Dartford Crossing note you need to pay toll. There are no toll booths. You have to go online to make the payment. You are allowed to make the payment before midnight the day after you made the crossing.
Going north you will be going through a tunnel and going south it is a bridge.
Gorgeous views along the way.



We reached our friends home in Horsham by about 11.30 with only one coffee stop in between on the M25. Look for the big service areas where you will have petrol stations, but also shops like WHS, Starbucks etc.
We stayed for lunch and moved on. We drove to friends, Wendy and Graham of ours in Poundbury, next to Dorchester. Wendy and Graham stayed in India during the same years as we did. They also lived in Delhi. We met them on one of many travels. Since that first meeting the four of us have travelled to many places in India together. And when all of us moved back to Europe we kept travelling together. Again, due to the pandemic, no travelling or even meeting up. So we were staying two nights with them to catch up and do some sight seeing in this part of the country.
We drove along some country and coastal roads to finally make it to Poundbury by the end of the afternoon.


We had never been to Poundbury, but have heard about it. It was one of (then still) Prince Charles pet project to build more attractive homes.
I did not take any photographs, but have a look here:
Poundbury is an urban extension to the Dorset county town of Dorchester, designed in accordance with the principles of architecture and urban planning as advocated by HRH The Prince of Wales, in his book 'A Vision of Britain'.
Poundbury, built on Duchy of Cornwall land, is currently home to some 4,600 people in a mix of private and affordable housing, as well as providing employment for 2,400 people working in more than 240 shops, cafés, offices and factories. A further 200 people are employed in construction across the site and many more are self-employed and at times work from home.
It is a very interesting concept, building nice, mostly retro looking building, well build and isolated. Owners are not supposed to park their car in front of their homes, but at the rear. So streets are wide open. The estate has many shops, cafe's, restaurants and pubs. In theory you never have to leave the estate as everything you need is to found within walking distance.
We thought it all a bit weird. Although apparently more younger families are moving in, a lot of more "mature" people live there.
The next day Wendy and Graham took us for a nice walk along one of the RPSB estates. (https://www.rspb.org.uk)
We ended up on the waterfront.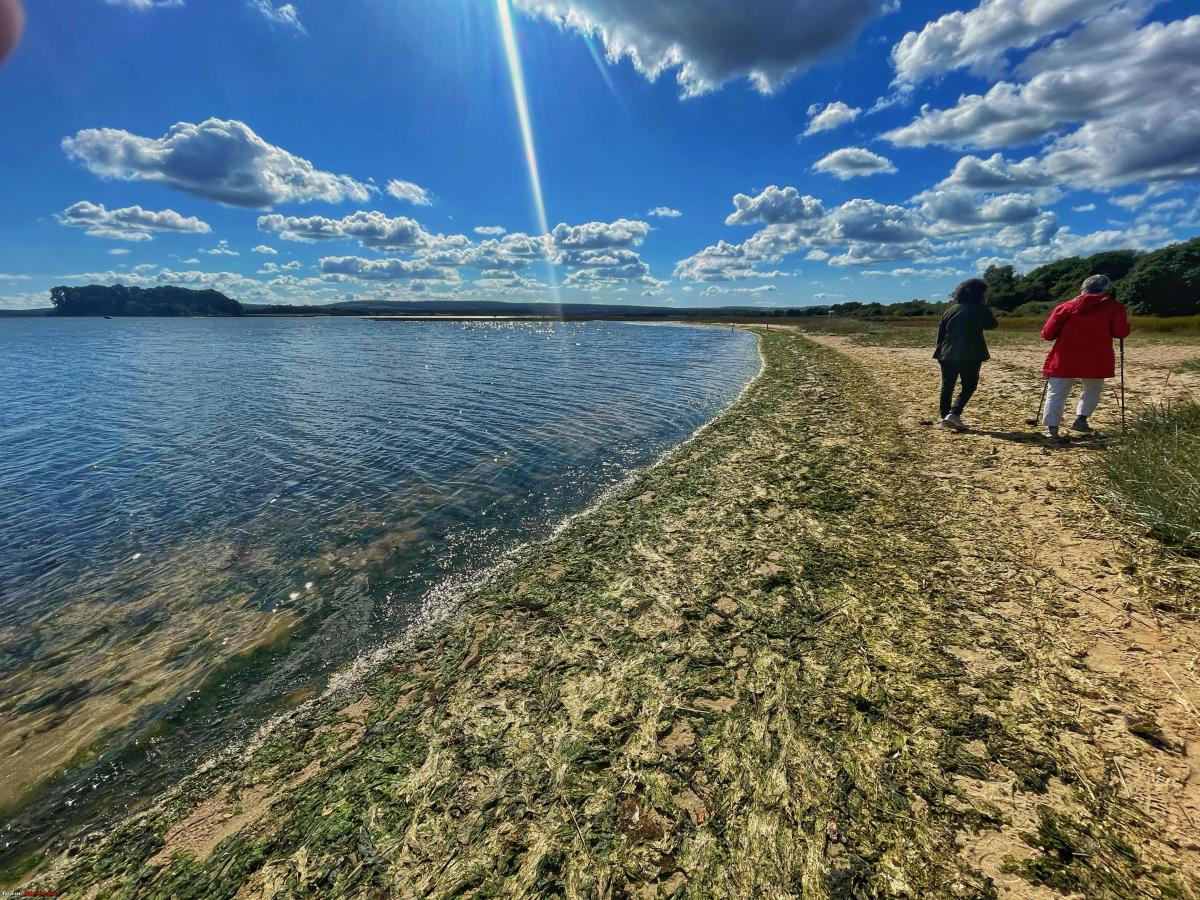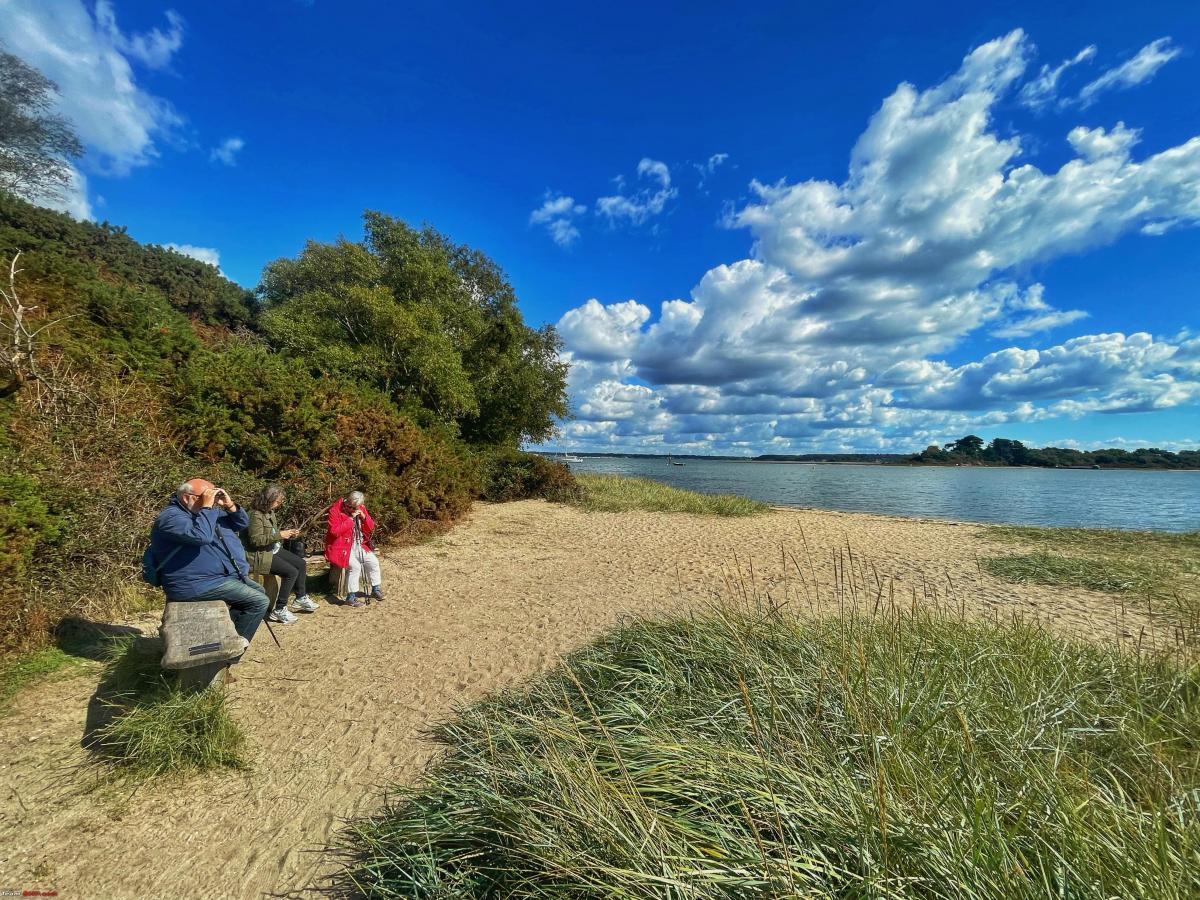 Next we drove across some gorgeous country roads to Corfe Castle. I had never even heard of Corfe Castle. Turns out is one of the biggest castles in the country.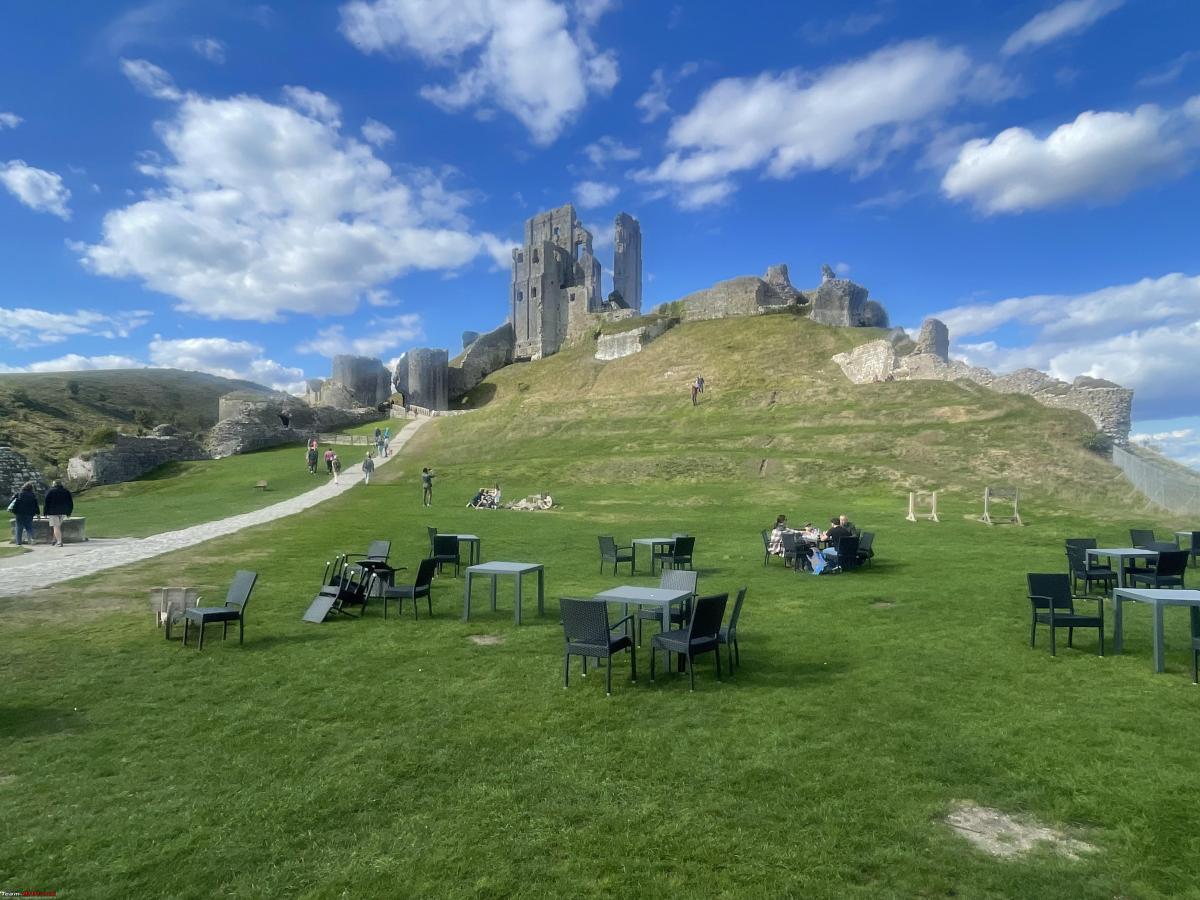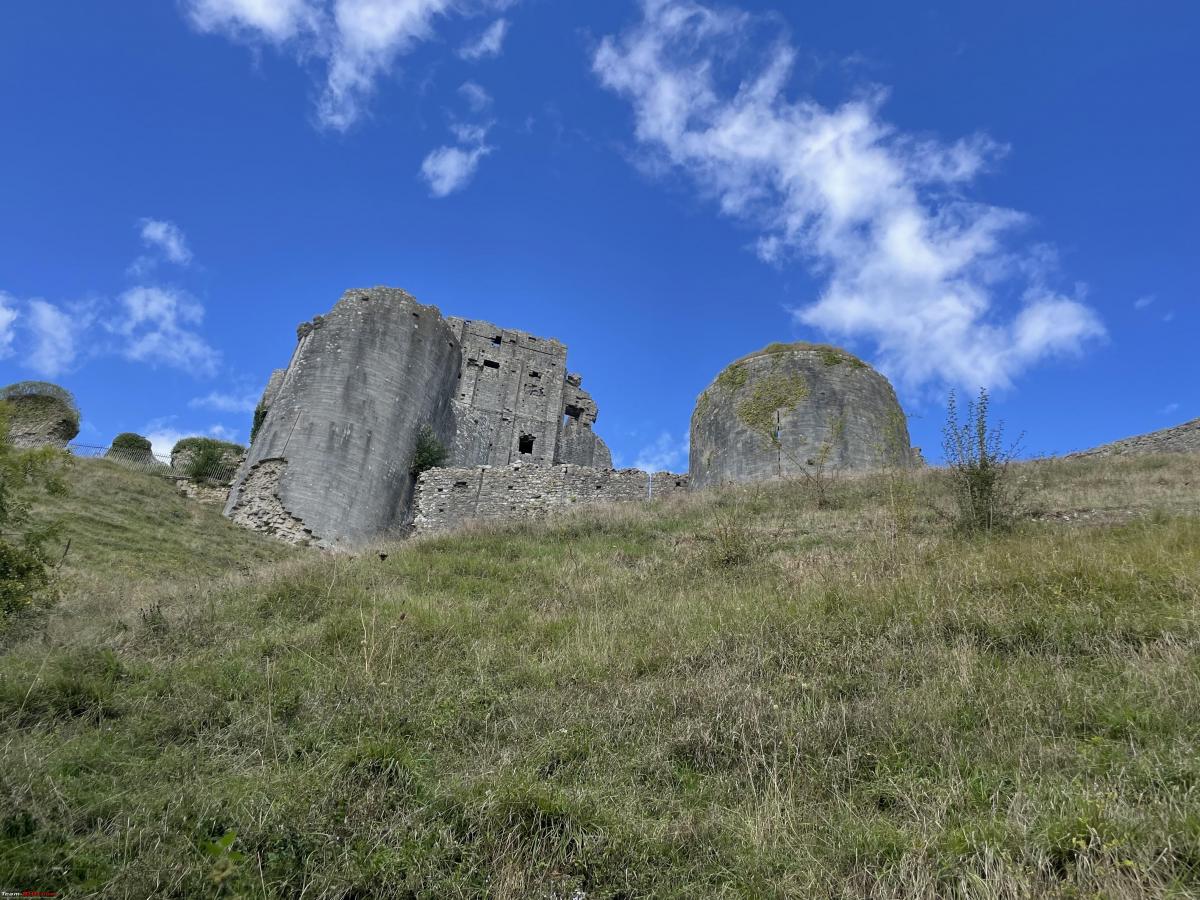 It is more than a thousand years old! In 1074, William the Conqueror exchanged a church in Gillingham for the castle hill and land around it owned by the then Abbess of Shaftesbury.


The first stone of Corfe castle was laid in 1086 and since it has been extended. It has been a treasury, military garrison, royal residence and family home.
It was destroyed in 1646 by the Parliamentarians. These days it is run by the National Trust, who as usual, do a fantastic job of keeping the British heritage alive.
It's quite the walk from the car park all the way up to the top of the castle. Time to catch our breath.


Gorgeous view of Dorset from the castle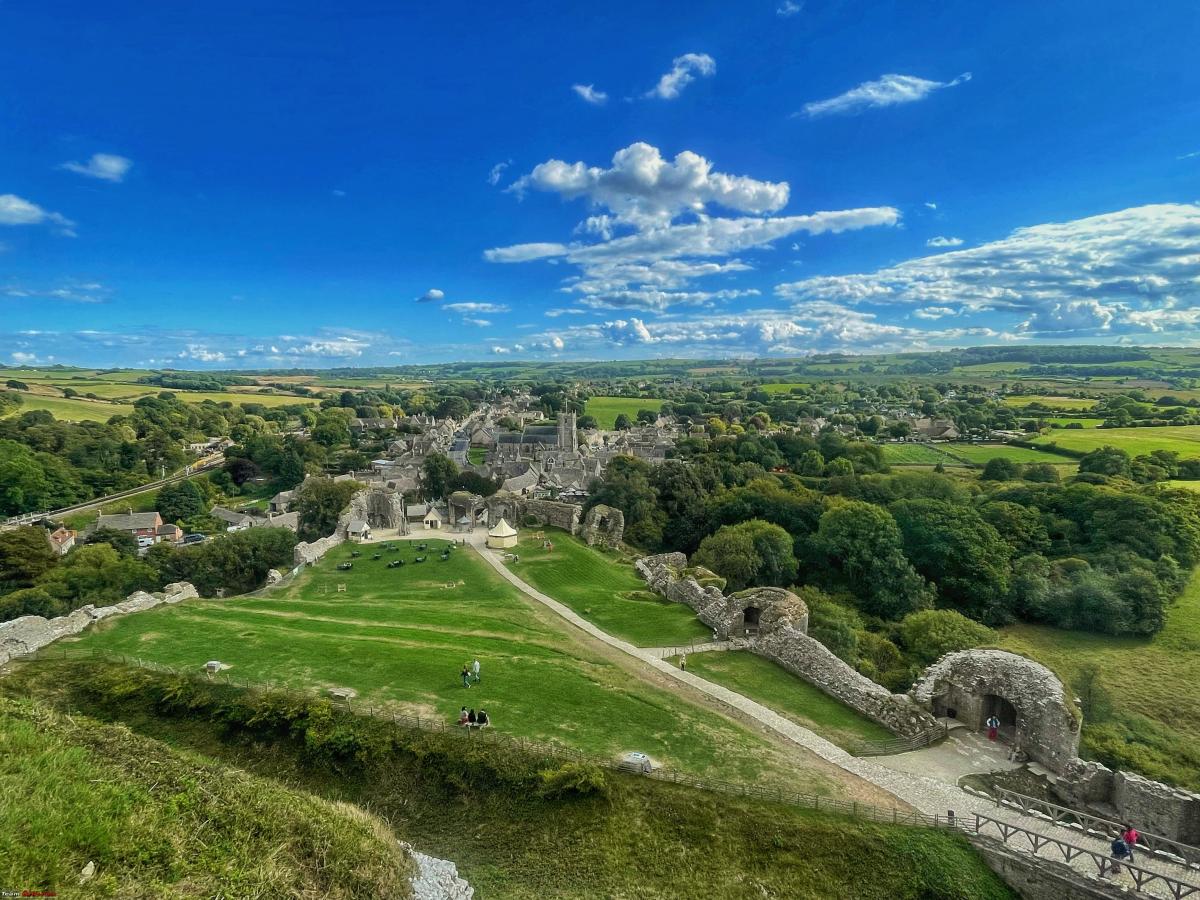 View from the village.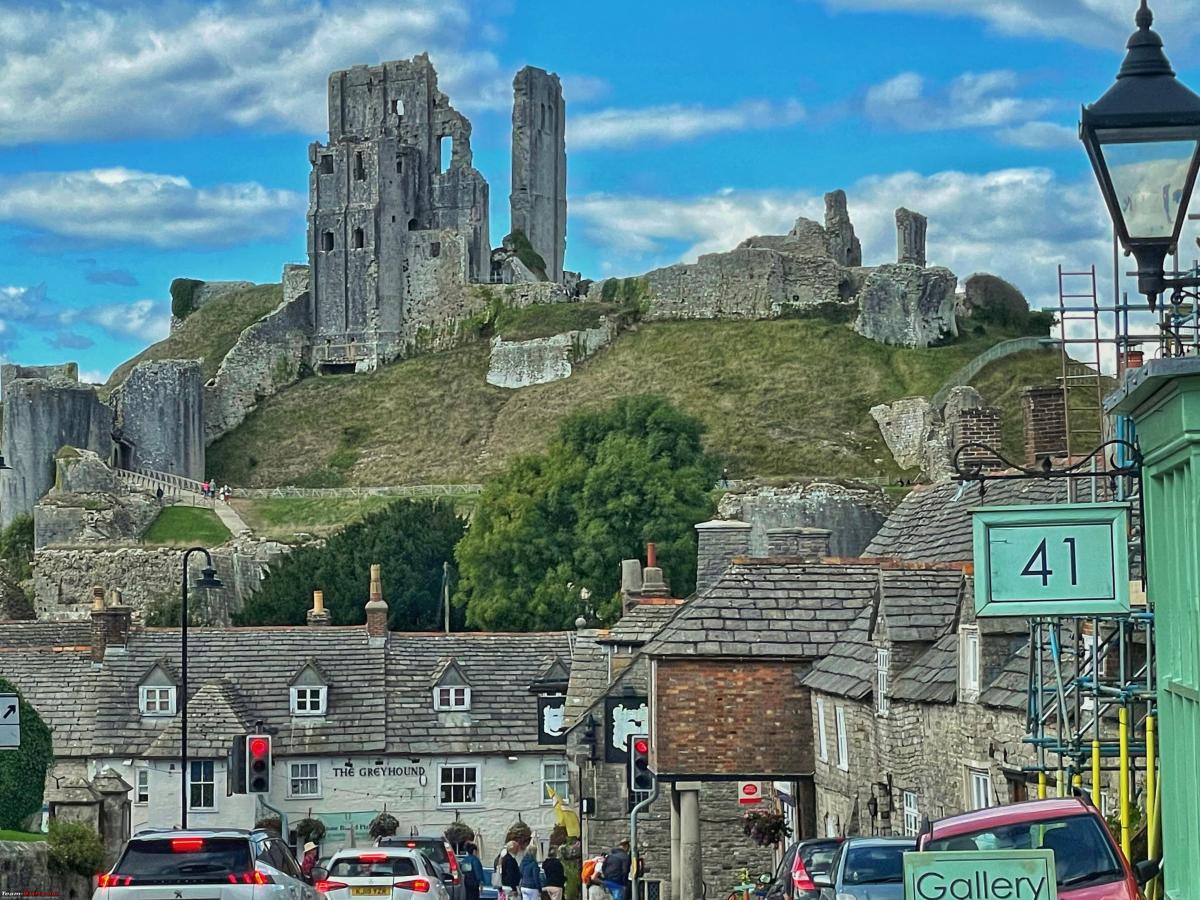 That evening we have a fabulous meal in one of Poundbury's restaurant. The next morning we set off again to meet some friends in Sidmouth. A very nice little seaside town. Sorry no photographs. It took a very long time to find a parking place there. It was very very busy. One of the reasons being a classic car show held at the cricket club. We just met up with our friends, had a nice healthy lunch and moved on to Bath.
We know Bath very well. My wife is a very keen "period dress maker". Every year the Jane Austin festival is held in Bath. My wife, daughter, son and law and various friends dress up in self made Jane Austin Period dress and parade all day long in Bath.
This year the festival was about to end at the weekend we arrive. My wife still wanted to go see some museums in Bath. So we booked a hotel and by end of the afternoon we found ourselves in Bath.
Bath is a lovely town, with lots to see and do. Some very nice architecture as well.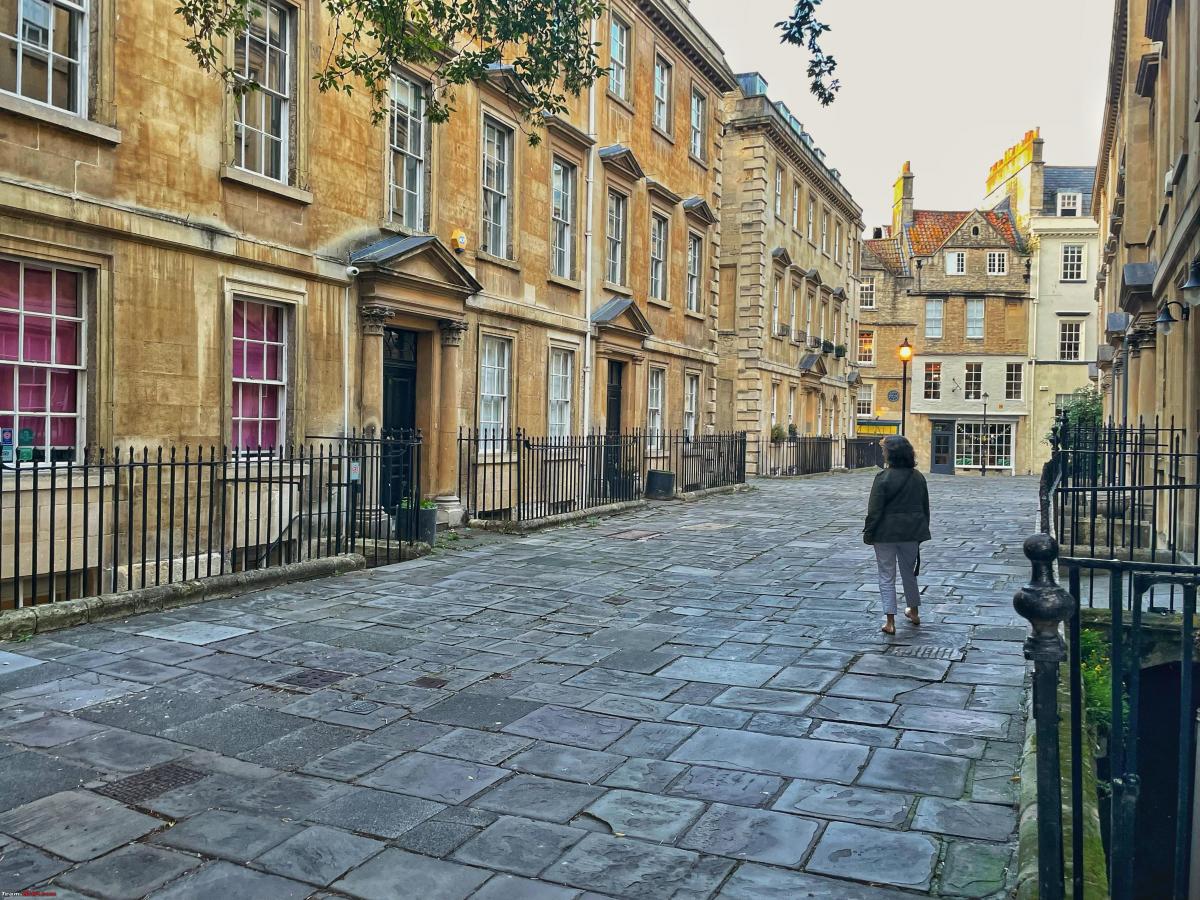 Here a so called "long boat" on one of the canals. You can rent them, great fun to travel across the old canals of England.


There are several interesting museums nearby Bath as well. One being the Haynes car museum and the Royal Fleet air Arm Museum. I visited this some years ago, have a look here.
From Wikipedia:
The city became a spa with the Latin name Aquae Sulis ("the waters of Sulis") c. 60 AD when the Romans built baths and a temple in the valley of the River Avon, although hot springs were known even before then.
Bath Abbey was founded in the 7th century and became a religious centre; the building was rebuilt in the 12th and 16th centuries. In the 17th century, claims were made for the curative properties of water from the springs, and Bath became popular as a spa town in the Georgian era. Georgian architecture, crafted from Bath stone, includes the Royal Crescent, Circus, Pump Room and Assembly Rooms where Beau Nash presided over the city's social life from 1705 until his death in 1761.
Many of the streets and squares were laid out by John Wood, the Elder, and in the 18th century the city became fashionable and the population grew. Jane Austen lived in Bath in the early 19th century. Further building was undertaken in the 19th century and following the Bath Blitz in World War II. Bath became part of the county of Avon in 1974, and, following Avon's abolition in 1996, has been the principal centre of Bath and North East Somerset.
So we owe it to the Romans, this town is called Bath. We had to find a place to have dinner that evening. Lots and lots of restaurant, spoiled for choice.
But as the saying goes, When in Bath, do as the Romans did and have a Thai dinner.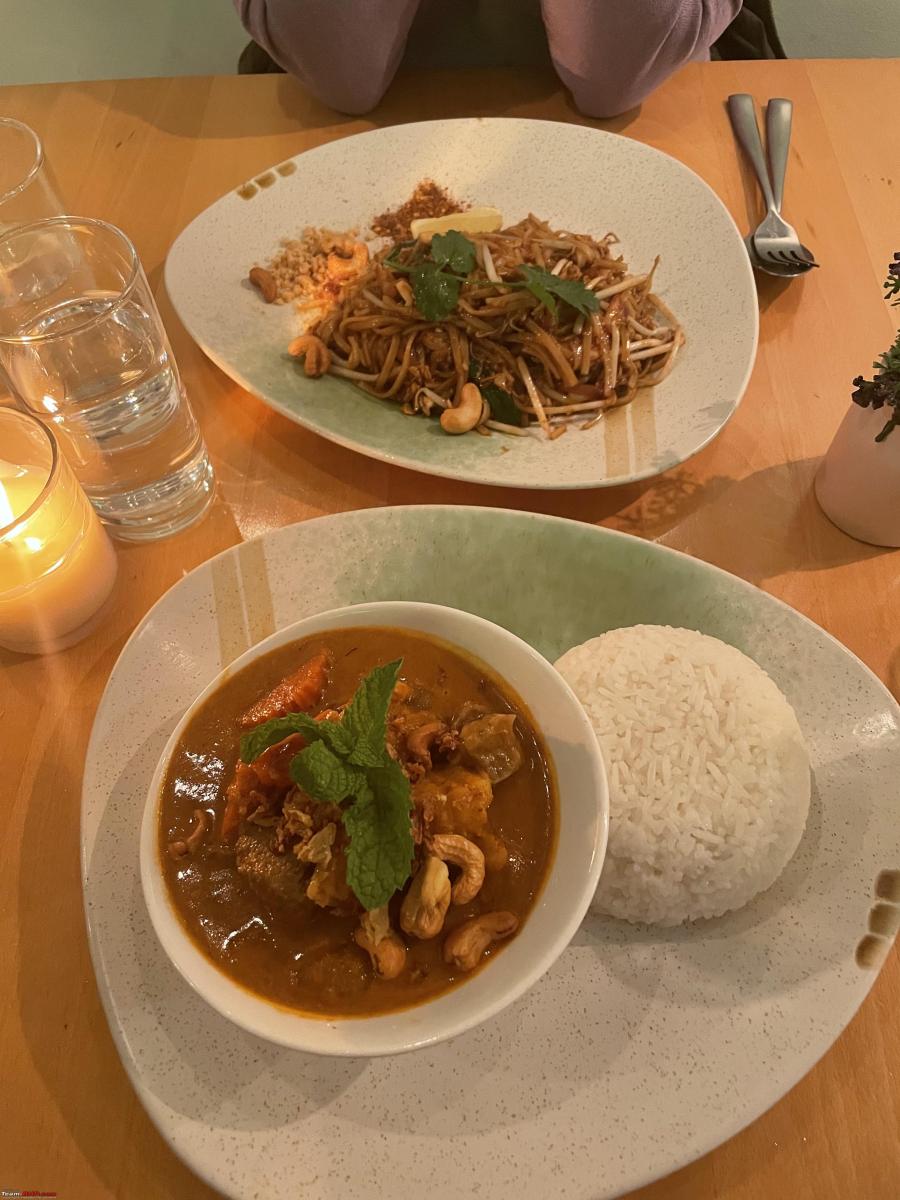 Due to the Jane Austin festival and also because of a Rugby match that weekend it was difficult to find a hotel. I ended up booking a travel lodge for a ridiculous amount of money. Even at that price, no breakfast. But when we are in Bath we tend to have our breakfast in one of the many lovely breakfast cafe's.
This one is our favourite and was only 150 m from our hotel.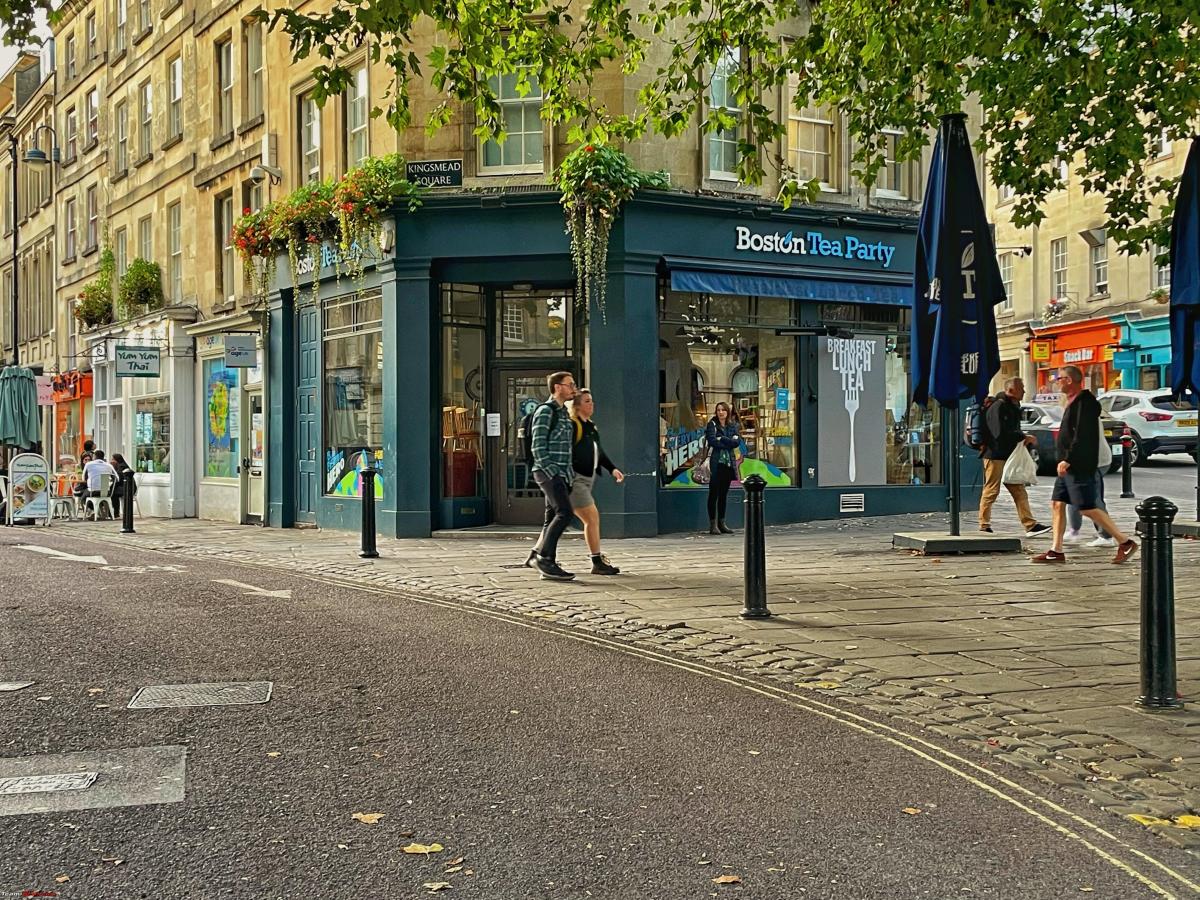 Now this is a proper breakfast for two!!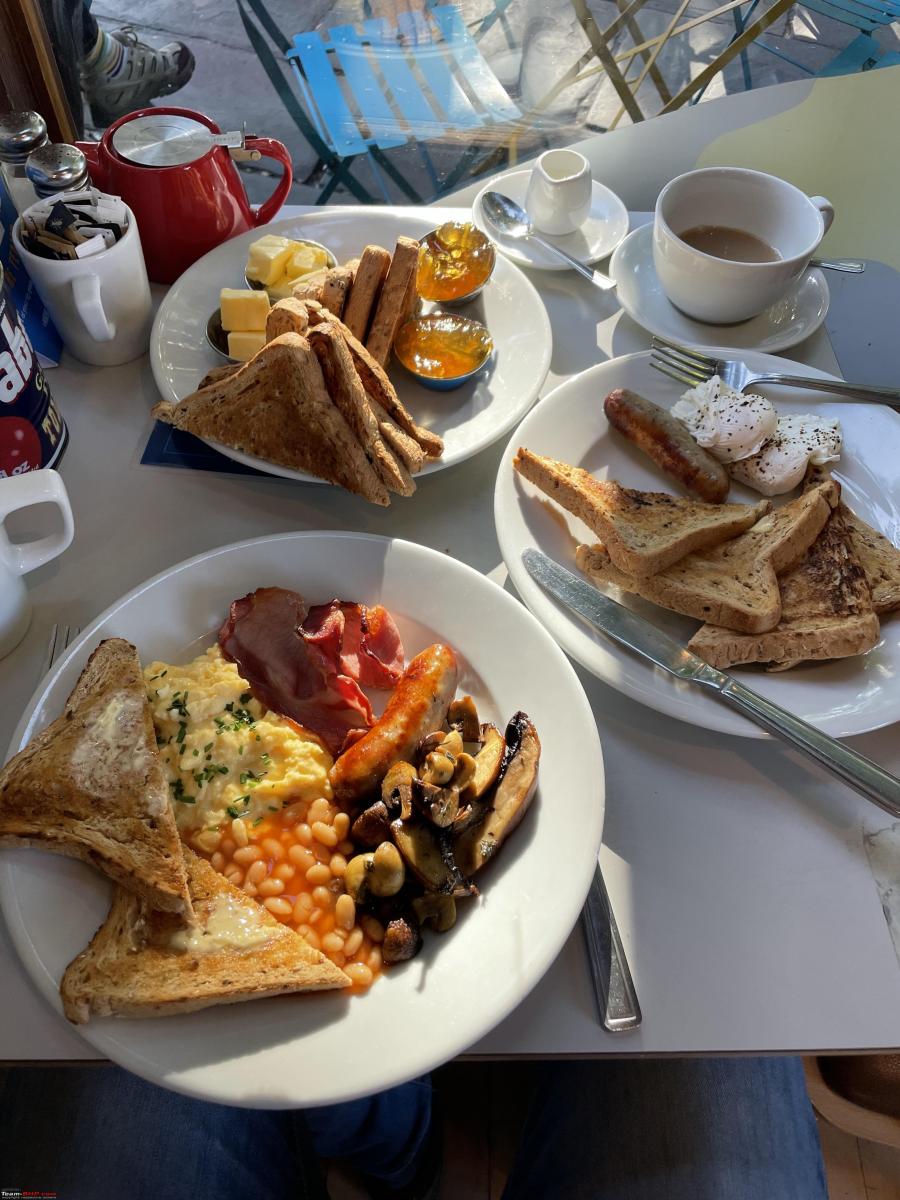 Some more strolling around:


As we walked around Bath I noticed these Haynes manuals in a bookshop. Haynes is of course very much known for their car workshop manuals. I have quite a few of them. They have also a series about planes, e.g. Concorde, which I also have.
But these look like they might come in handy for a few other hobbies/inter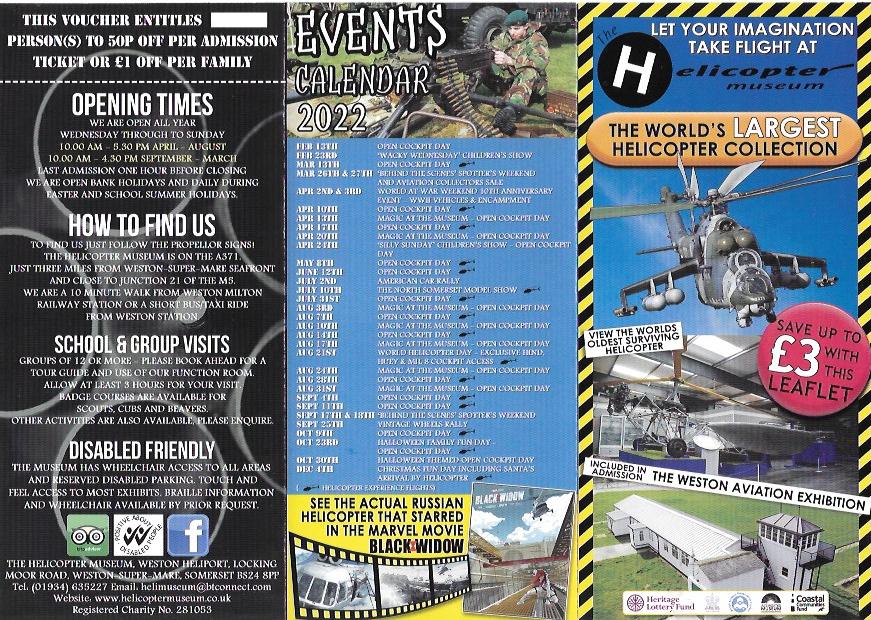 Continue reading BHPian Jeroen's travelogue on his getaway to England for more insights and information.
Keep yourself tuned in to the Indian automotive scene via Twitter, Youtube or RSS feeds.